Product Description
Product Description
Metric Type L Couplings
Standrd or Nonstandard flexible couplings
Salient features
* Simple construction-quick easy installation-No special tools required.
* Flexible insert caters for incident angular, parallel and axial misalignment.
* Absorbs shock loads and damps small amplitude vibration.
* Insert design presets correct distance between hubs, using raised pads on each leg of the insert.
* Available in a range of stock bore sizes. Can also be supplied with finished bore & keyway.
* Unaffected by moisture, grease and oils-including 
   non-aromatic and non-ketone solvents and temperatures within the range 40C to + 100C.
* Spacer coupling with spacer size depending upon the distance between two shaft ends.
What applications are coupling used for?
Couplings are used in servo drive technology, machine tools, packaging machinery, automation systems, printing presses, industrial robots, control and positioning technology, and general mechanical engineering.
Applied to lifting jack and electic motor
Schematic diagram of the use of Jaw/Spider Coupling                    Amplifier schematic
Product Parameters
Packaging & Shipping
All the products can be packed in cartons,or,you can choose the pallet packing.
MADE IN CHINA can be pressed on wooden cases.Land,air,sea transportation are available.UPS,DHL,TNT,
FedEx and EMS are all supported.
Company Profile
About Mighty Machinery
ZheJiang Mighty Machinery Co., Ltd., specializes in manufacturing Mechanical Power Transmission Products. After over 13 years hard work, MIGHTY have already get the certificate of ISO9001:2000 and become a holding company for 3 manufacturing factories. 
MIGHTY advantage
1, Abundant experience  in the mechanical processing industries.
2,Large quality of various material purchase and stock in warhouse which ensure the low cost for the material and  production in time.
3,Now have 5 technical staff, we have strong capacity for design and process design, and more than 70 worker now work in our FTY and  double shift eveyday.
4,Strick quality control are apply in the whole prodution. we have incoming inspection,process inspection and final production inspection which can ensure the perfect of the goods quality.
5,Long time cooperate with the Global Buyer, make us easy to understand the csutomer and handle the export.
FAQ
Q: Are you trading company or manufacturer ?
A: We are factory.
Q: How long is your delivery time?
A: Generally it is 5-10 days if the goods are in stock. or it is 15-20 days if the goods are not in stock, it is according to quantity.
Q: Do you provide samples ? is it free or extra ?
A: Yes, we could offer the sample for free charge but do not pay the cost of freight.
Q: What is your terms of payment ?
A: Payment=1000USD, 30% T/T in advance ,balance before shippment.
If you have any questions, pls feel free to contact me as below: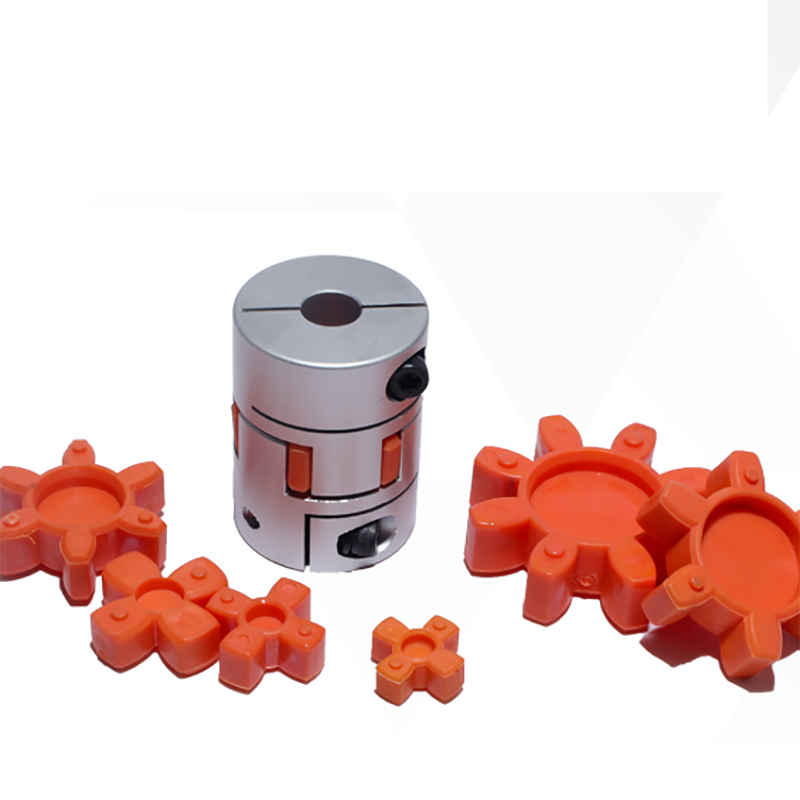 How does a spider coupling compare to other types of couplings, such as jaw couplings or gear couplings?
Spider couplings, jaw couplings, and gear couplings are all commonly used in mechanical systems for power transmission and misalignment compensation. Each type of coupling has its own unique characteristics and advantages. Here's a comparison:
Spider Couplings: Spider couplings, also known as flexible couplings or jaw/spider couplings, use an elastomeric spider to transmit torque and accommodate misalignment. They are known for their flexibility, vibration dampening, and ability to handle angular, radial, and axial misalignment. Spider couplings are suitable for a wide range of applications and are cost-effective solutions for moderate torque requirements and misalignment compensation.
Jaw Couplings: Jaw couplings consist of two hubs with curved jaws that interlock and transmit torque. They are simple to install and provide a secure connection. However, jaw couplings are less effective in accommodating misalignment compared to spider couplings. They are suitable for applications with minimal misalignment and moderate torque transmission.
Gear Couplings: Gear couplings use toothed gears to transmit torque between shafts. They are robust and capable of transmitting high torque while accommodating some misalignment. Gear couplings are often used in heavy-duty applications that require precise torque transmission and can tolerate limited misalignment.
When comparing these couplings, spider couplings stand out for their versatility in handling various types of misalignment and providing vibration dampening. Jaw couplings are simpler and suitable for applications with minimal misalignment, while gear couplings excel in heavy-duty applications with high torque requirements. The choice between these couplings depends on the specific requirements of the application, including torque, misalignment compensation, space limitations, and cost considerations.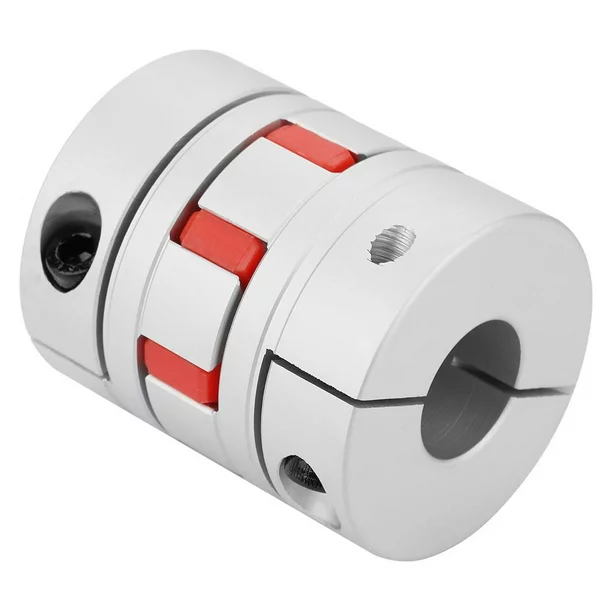 How do you diagnose and troubleshoot issues related to spider couplings in machinery systems?
Diagnosing and troubleshooting issues with spider couplings requires a systematic approach to identify the root cause of the problem and implement effective solutions. Here are the steps to diagnose and troubleshoot spider coupling-related issues:
Visual Inspection: Conduct a thorough visual inspection of the coupling, looking for visible signs of wear, damage, or misalignment. Check for cracks, tears, and irregularities in the elastomeric spider.
Vibration Analysis: Use vibration analysis tools to assess vibration levels during operation. Elevated vibration can indicate issues such as misalignment, wear, or unbalanced loads.
Performance Monitoring: Monitor the performance of connected machinery or equipment. If there's a decrease in torque transmission, efficiency, or overall performance, it could be attributed to coupling problems.
Alignment Check: Ensure proper alignment between shafts connected by the coupling. Misalignment can cause uneven load distribution and lead to coupling wear.
Temperature Monitoring: Monitor the temperature of the coupling during operation. Abnormal temperature increases could point to excessive friction and wear.
Inspect Fasteners: Check for loose or worn-out fasteners such as bolts, nuts, and screws that secure the coupling components. Loose fasteners can contribute to misalignment and coupling issues.
Inspect Lubrication: Check the lubrication of the coupling components. Inadequate or degraded lubrication can lead to increased friction and wear.
Consider Environmental Factors: Evaluate the operating environment for factors such as temperature variations, humidity, and exposure to chemicals. Environmental conditions can affect coupling performance.
Review Maintenance Records: Review the maintenance history and records of the coupling and connected equipment. This can provide insights into past issues and potential causes.
Based on the diagnostic results, appropriate troubleshooting steps can be taken. These might include adjusting alignment, replacing damaged components, re-lubricating, or replacing the elastomeric spider. Regular maintenance and prompt troubleshooting are essential to ensure the reliable and efficient operation of machinery systems utilizing spider couplings.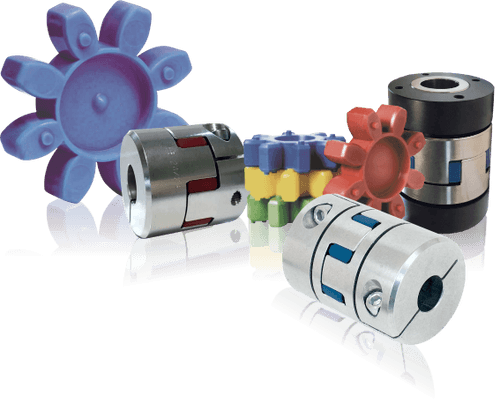 What are the advantages of using a spider coupling in industrial applications?
Spider couplings offer several advantages that make them a popular choice for various industrial applications. Here are the key advantages:
Misalignment Compensation: Spider couplings can accommodate angular, axial, and parallel misalignments between connected shafts. This ability to compensate for misalignment reduces stress on components and extends equipment lifespan.
Flexibility: The elastomeric spider provides flexibility that allows for slight movements between the shafts. This flexibility helps prevent excessive wear, reduces vibration transmission, and minimizes the risk of component failure.
Vibration Dampening: The elastomeric material of the spider acts as a shock absorber, dampening vibrations generated by rotating machinery. This can lead to improved equipment performance, reduced noise, and enhanced operator comfort.
Easy Installation: Spider couplings have a simple design with minimal components, making them easy to install and replace. Their design eliminates the need for precise alignment during installation, saving time and effort.
Torque Transmission: Spider couplings efficiently transmit torque from one shaft to another, ensuring that power is effectively transferred between connected components.
Minimal Maintenance: Spider couplings require minimal maintenance due to their self-lubricating and wear-resistant elastomeric material. This reduces downtime and maintenance costs for industrial machinery.
Compact Design: Spider couplings have a compact and lightweight design, making them suitable for applications where space is limited. Their small size allows for easy integration into various systems.
Cost-Effective: Spider couplings are relatively inexpensive compared to other coupling types, making them a cost-effective solution for a wide range of industrial applications.
Electric Insulation: In applications where electrical isolation is important, spider couplings made from electrically insulating materials can prevent the transmission of electrical currents between shafts.
Wide Range of Sizes: Spider couplings are available in various sizes and configurations to accommodate different shaft diameters and torque requirements.
Due to these advantages, spider couplings are commonly used in industries such as manufacturing, automation, packaging, material handling, and more, where flexibility, misalignment compensation, and efficient torque transmission are essential for optimal equipment performance.



editor by CX 2023-09-14