Product Description
| | | | | | | | | |
| --- | --- | --- | --- | --- | --- | --- | --- | --- |
| Item No. | φD | L | L1 | L2 | L3 | S | M | Tighten the strength(N.m) |
| SG7-10-14- | 15 | 20 | 6 | 6 | 3 | 1 | M3 | 1 |
| SG7-10-25- | 26 | 26 | 8 | 8 | 4 | 1 | M4 | 1.5 |
| SG7-10-30- | 32 | 32 | 10 | 9 | 5 | 1.5 | M4 | 1.7 |
| SG7-10-40- | 40 | 50 | 17 | 12 | 8.5 | 2 | M5 | 4 |
| SG7-10-55- | 56 | 58 | 20 | 14 | 10 | 2 | M5 | 4 |
| SG7-10-65- | 66 | 62 | 21 | 15 | 10.5 | 2.5 | M8 | 15 |
| SG7-10-80- | 82 | 86 | 31 | 18 | 15.5 | 3 | M8 | 15 |
| SG7-10-95- | 98 | 94 | 34 | 20 | 17 | 3 | M8 | 15 |
| SG7-10-108- | 108 | 123 | 46 | 24 | 23 | 3.5 | M8 | 15 |
1111111111111111
| | | | | | | | | | |
| --- | --- | --- | --- | --- | --- | --- | --- | --- | --- |
| Item No. | Rated torque | Maximum Torque | Max Speed | Inertia Moment | N.m rad | RRO | Tilting Tolerance | End-play | Weight:(g) |
| SG7-10-14- | 1.1N.m | 2.2N.m | 19000prm | 3.9×10-4kg.m² | 45N.m/rad | 0.02mm | 1.0c | +0.6mm | 20 |
| SG7-10-25- | 6.0N.m | 12N.m | 16000prm | 6.8×10kg.m² | 56N.m/rad | 0.02mm | 1.0c | +0.6mm | 25 |
| SG7-10-30- | 6.5N.m | 13N.m | 15000prm | 8.3×10kg.m² | 70N.m/rad | 0.02mm | 1.0c | +0.6mm | 46 |
| SG7-10-40- | 32N.m | 64N.m | 13000prm | 9.3×10kg.m² | 490N.m/rad | 0.02mm | 1.0c | +0.8mm | 135 |
| SG7-10-55- | 46N.m | 92N.m | 10500prm | 3.8×10-3kg.m² | 1470N.m/rad | 0.02mm | 1.0c | +0.8mm | 300 |
| SG7-10-65- | 109N.m | 218N.m | 8300prm | 8×10kg.m² | 2700N.m/rad | 0.02mm | 1.0c | +0.8mm | 570 |
| SG7-10-80- | 135N.m | 270N.m | 7000prm | 1.5×10-2kg.m² | 3100N.m/rad | 0.02mm | 1.0c | +1.0mm | 910 |
| SG7-10-95- | 260N.m | 520N.m | 6000prm | 1.9×10kg.m² | 4400N.m/rad | 0.02mm | 1.0c | +1.0mm | 1530 |
| SG7-10-108- | 430N.m | 860N.m | 5000prm | 3×10kg.m² | 5700N.m/rad | 0.02mm | 1.0c | +1.0mm | 2200 |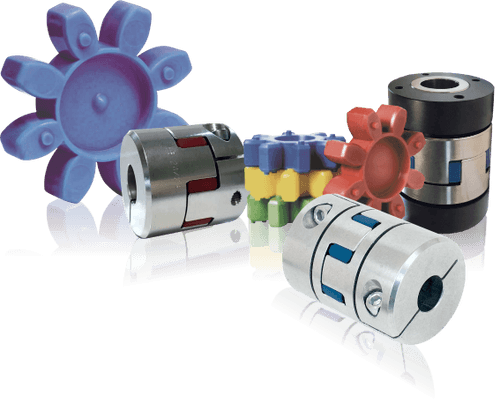 Can a spider coupling handle high levels of torque and angular misalignment?
Yes, a spider coupling is designed to handle a range of torque levels and accommodate angular misalignment. The elastomeric spider element, which is a key component of the coupling, provides the flexibility needed to transmit torque and compensate for misalignment. Here's how a spider coupling handles these factors:
High Torque: Spider couplings are engineered to transmit torque efficiently. The elastomeric spider deforms slightly under torque load, allowing it to transfer power between the shafts. The specific torque capacity depends on the design, materials, and size of the coupling. High-performance spider couplings can handle significant torque loads, making them suitable for various industrial applications.
Angular Misalignment: Spider couplings can accommodate angular misalignment between the connected shafts. The elastomeric spider can flex in different directions, allowing for a certain degree of angular deviation between the shafts. This flexibility helps prevent excessive stress on the shafts and components, enhancing the coupling's lifespan and reliability.
However, it's important to note that while spider couplings can handle a range of torque levels and angular misalignment, there are limitations to how much misalignment they can compensate for. Excessive misalignment can lead to premature wear and reduced coupling performance. It's recommended to follow the manufacturer's guidelines for allowable misalignment and torque capacity to ensure optimal coupling performance and longevity.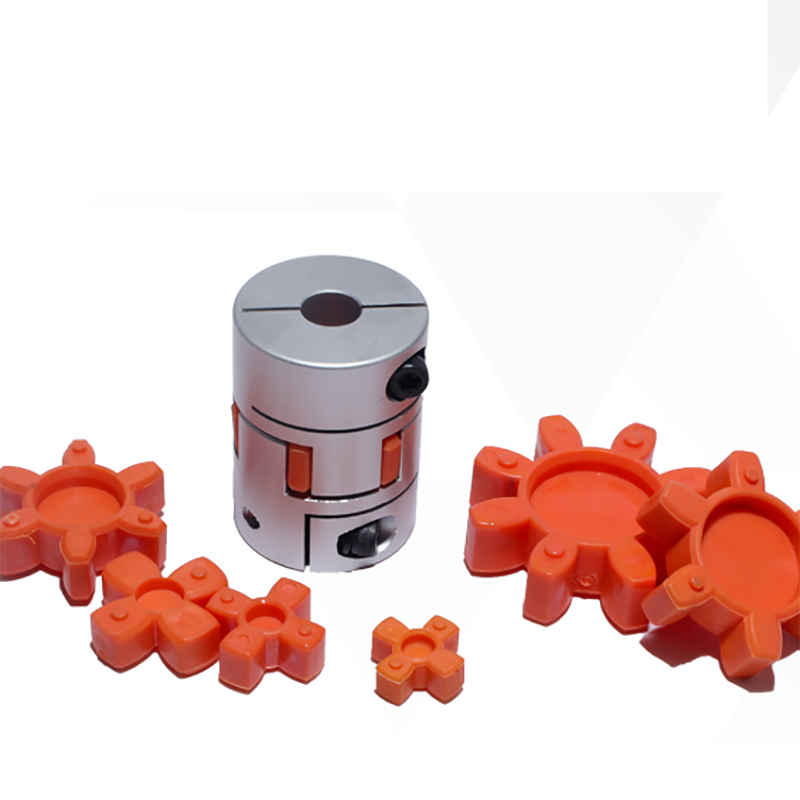 Can you explain the concept of torsional stiffness in relation to spider couplings?
Torsional stiffness is a crucial concept in the design and functionality of spider couplings. It refers to the ability of a coupling to resist rotational deformation (twisting) when subjected to a torque load. In other words, torsional stiffness measures how much a coupling can maintain its shape and transmit torque without excessive twisting or deformation.
In the context of spider couplings:
High Torsional Stiffness: A coupling with high torsional stiffness exhibits minimal angular deflection or twisting when torque is applied. This ensures accurate torque transmission and precise alignment between connected shafts. High torsional stiffness is especially important in applications that require accurate positioning and synchronization.
Low Torsional Stiffness: A coupling with low torsional stiffness allows for some degree of angular misalignment between shafts and can accommodate slight variations in torque load. This flexibility can be advantageous in applications where misalignment or shock absorption is necessary.
When selecting a spider coupling for a specific application, the torsional stiffness of the coupling needs to be considered based on the requirements of the machinery system. The choice between high and low torsional stiffness depends on factors such as the level of precision needed, the type of load, the degree of misalignment, and the overall performance objectives.
It's important to note that while torsional stiffness is a key consideration, other factors like the material of the elastomeric spider, size of the coupling, and the type of spider profile also play a role in the coupling's overall performance and behavior.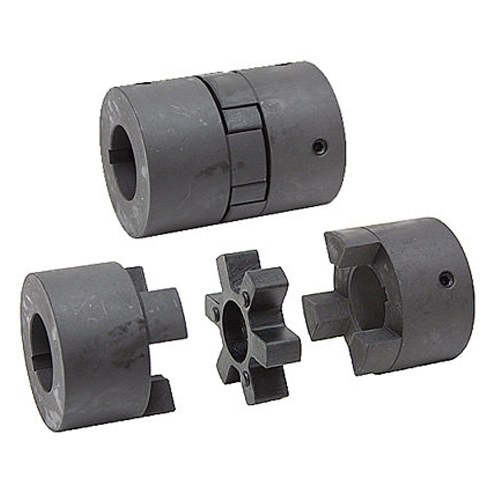 What is a spider coupling and how is it used in mechanical systems?
A spider coupling, also known as a jaw coupling or elastomeric coupling, is a type of flexible coupling used to connect two shafts while accommodating misalignment and transmitting torque between them. It consists of three main components: two hubs and an elastomeric spider or insert that fits between them.
The elastomeric spider is typically made of a flexible and durable material, such as rubber or polyurethane, with a series of lobes or fins that fit into matching grooves on the inner surfaces of the hubs. These lobes allow the spider to flex and absorb misalignments between the connected shafts while transmitting torque.
The spider coupling is used in mechanical systems to:
Transmit Torque: The primary function of a spider coupling is to transmit torque from one shaft to another. As the shafts rotate, the elastomeric spider deforms slightly, allowing the hubs to move relative to each other while maintaining torque transmission.
Accommodate Misalignment: Spider couplings can accommodate different types of misalignment, including angular, axial, and parallel misalignments, without causing excessive stress on the connected components. This flexibility helps prevent premature wear and failure.
Dampen Vibrations: The elastomeric material of the spider acts as a shock absorber, dampening vibrations and reducing the transmission of vibrations between the connected shafts. This can improve overall system performance and reduce wear on components.
Isolate Shock Loads: In applications with sudden changes in torque or shock loads, the spider coupling can absorb and dampen these shocks, protecting the connected components from damage.
Reduce Maintenance: Spider couplings require minimal maintenance due to their simple design and absence of lubrication points. This can lead to reduced downtime and maintenance costs in industrial machinery.
Provide Electric Insulation: Spider couplings can provide electrical isolation between the connected shafts, making them suitable for applications where electrical grounding needs to be minimized.
Spider couplings are commonly used in various machinery and equipment, such as pumps, compressors, conveyors, fans, and industrial machinery. They are particularly well-suited for applications that require flexibility, misalignment compensation, vibration reduction, and ease of maintenance.



editor by CX 2023-09-18